Summer Safety Tips for Your Pet
Protect your furry family's paws from the hot asphalt
NEVER leave them locked in the car
Hydrate, Hydrate, Hydrate! Even if your pet is not outside in the heat, it is easy to dehydrate fast. Set out extra water bowls. Make sure water bowls do not get hot, metal ones can warm up quick.
Watch closely for heatstroke
Stay in the shade
Long hair pets might need a hair-cut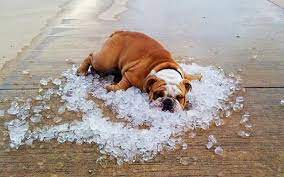 The most telling sign of heatstroke in your pet is excessive panting.
Other symptoms may include signs of discomfort such as drooling, reddened gums, vomiting, diarrhea, mental dullness or loss of consciousness, uncoordinated movement, and collapse. Heat stroke in dogs can indicate a serious medical problem and cause unseen problems, such as swelling of the brain, kidney failure, intestinal bleeding and abnormal clotting of blood. For this reason, immediate veterinary care is highly recommended. Until you can get to the veterinarian, be sure to:
Remove the dog from the hot environment immediately.
Do not give the dog aspirin to lower its temperature and can lead to other problems.
Let your dog drink as much cool water as they want without forcing them to drink.
Cool your dog off with cold water by placing a soaked towel on their back.